Thank you for considering advertising with us! Missing Links has become the destination location for family fun in the Milwaukee area. We have several opportunities for excellent exposure for your business at a reasonable price.
Minigolf Signage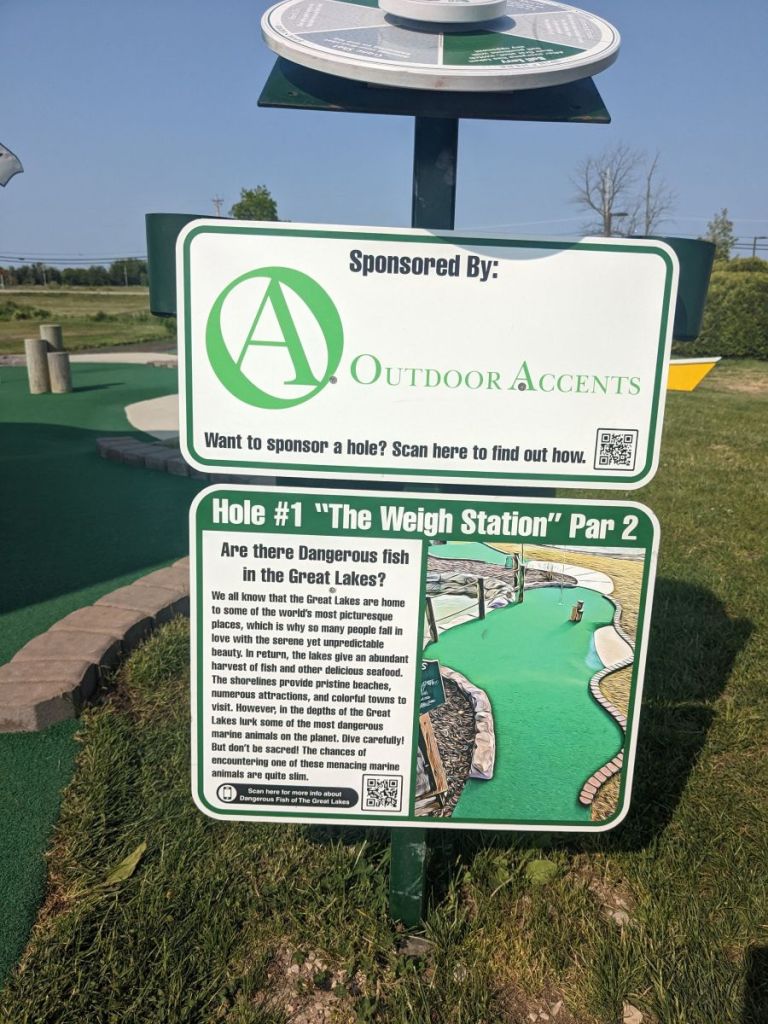 Boost Your Brand with Miniature Golf Advertising!
Are you looking for a unique and effective way to reach a large audience while golfers indulge in a fun and leisurely activity? Look no further than our thriving Minigolf course, where advertising opportunities are putting businesses on the map! With our course's growing popularity and upto 400 rounds played each day, your brand can capture the attention of countless potential customers.
One of the key advantages of advertising on our Minigolf course is the strategic placement of your brand message. As players eagerly await their turn at the next hole, they naturally gravitate towards the hole description and our captivating "Factoids" that highlight intriguing information about the Great Lakes and Water Awareness. This prime location ensures your advertisement receives maximum visibility and engagement from a captive audience.
Here's why advertising on our Minigolf course is a hole-in-one opportunity for your business:
Exceptional Exposure: Your brand will be front and center, as players stand right in front of your advertisement while waiting for their turn. This guarantees consistent exposure and increased brand awareness among a highly engaged and diverse audience.
Captivated Audience: As players eagerly read the hole description and absorb our fascinating "Factoids" about the Great Lakes and Water Awareness, they will also be immersed in your advertisement. By associating your brand with these interesting tidbits, you can create a lasting impression and forge a positive connection with potential customers.
Targeted Marketing: Our Minigolf course attracts a wide range of players, including families, groups of friends, and tourists. With our diverse audience, you have the opportunity to showcase your brand to various demographics, ensuring maximum reach and potential for new customers.
Unforgettable Experience: Minigolf is an entertaining and memorable pastime enjoyed by people of all ages. By advertising on our course, you can be part of creating joyful moments and happy memories for players, establishing a positive association with your brand.
Cost-Effective Advertising: Our advertising packages offer excellent value for your investment. With competitive pricing options, you can effectively promote your business and enhance your brand image without breaking the bank.
Don't miss out on this exciting opportunity to make a lasting impact on your target audience. Join us in promoting your brand through the captivating world of Minigolf! Contact us today to discuss our advertising packages and reserve your spot on our course.
Putt your brand in the spotlight and watch it shine! ⛳️✨
1 year, 1 sign – $398
1 year, 2 signs – $798
* one time setup charge of $40
Please email Eppersonpeter@gmail.com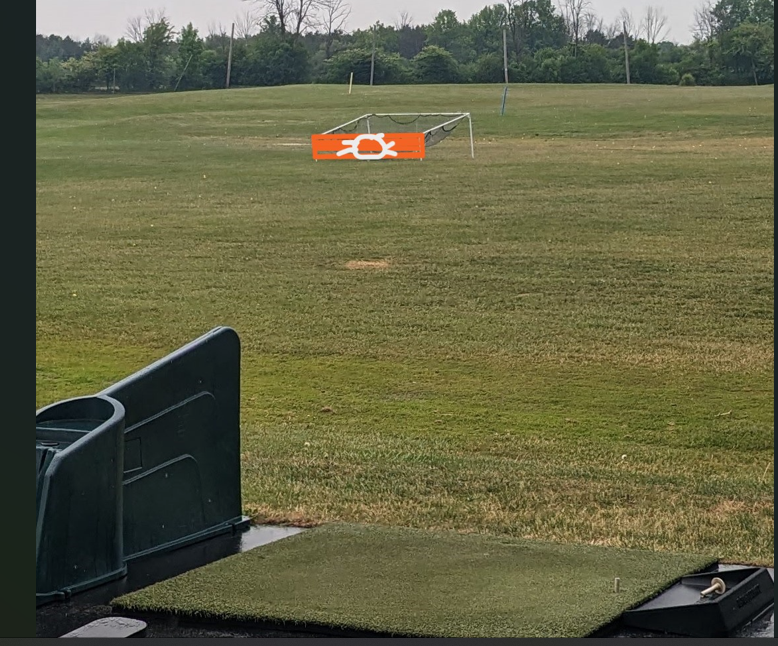 Are you looking for a unique and effective way to promote your brand and capture the attention of a highly engaged audience? Look no further! We are excited to present you with an incredible advertising opportunity at our driving range chipping target nets.
By placing your logo and advertisement on both of our chipping nets, you'll gain unparalleled exposure to an astonishing 90% of our range business. Imagine the impact your brand could make on our enthusiastic golfing community, as every single customer takes a moment to peer out towards your captivating advertisement before every shot. It's an advertising strategy that guarantees maximum visibility and engagement.
What sets our advertising opportunity apart is the prime location and minimal distractions. Our chipping nets are strategically positioned in an area where they become the focal point of the entire driving range. With no other distractions around, your ad will command the undivided attention of golfers honing their skills. This exclusive environment ensures that your message will not be diluted or overlooked.
Moreover, one of our nets faces Port Washington Road, a bustling thoroughfare that witnesses heavy traffic flow. This means that your advertisement will enjoy unprecedented viewage from a wide range of potential customers passing by. With its generous dimensions of 10 feet wide by 30 inches high, your ad will dominate the visual landscape and leave a lasting impression on every viewer.
The driving range offers a unique setting where customers spend extended periods of time, allowing them to absorb and internalize your advertisement. Your brand will become synonymous with their golfing experience, fostering a strong connection and enhancing brand recall. This kind of exposure and association is invaluable in creating a lasting impact on your target audience.
Don't miss out on this exceptional opportunity to showcase your brand in an environment where it will truly shine. Secure your spot on our chipping nets now and experience the tremendous benefits of prime advertising exposure to our engaged and captive audience. Contact us today to discuss further details and pricing options. Together, let's drive your brand's success to new heights!
Both signs one year $985
* one-time set up charge $90
Email Eppersonpeter@gmail.com today to grab these unique spots.
T-Divider Yardage Marker Signage
Are you looking for a unique advertising opportunity that guarantees visibility to a captive audience? Look no further than our driving range Tee Dividers, where your company can secure placement on seven out of our 28 dividers. This prime advertising space allows you to reach every golfer on the range, ensuring maximum exposure for your brand.
Here's what you can expect from this exclusive advertising opportunity:
Strategic Placement: Your company's advertisement will be prominently displayed on an 8.5″ by 11″ poster, positioned adjacent to our highly sought-after "Range Information Map." This map is an essential resource for every golfer on the range, as it provides vital yardage information to each of our targets. By being placed in close proximity to this valuable map, your brand will be front and center in the minds of all golfers before they take their shots.
Targeted Audience: The driving range attracts a diverse range of golfers, from beginners honing their skills to seasoned players refining their technique. This means that your advertisement will be seen by individuals of all skill levels and backgrounds, allowing you to effectively target a wide audience.
Captive Viewers: Our golfers actively engage with the "Range Information Map" before each shot, studying the yardage to plan their strategies. This presents a unique opportunity for your brand to capture their attention and leave a lasting impression. With your advertisement strategically positioned as a focal point, your message will be impossible to miss, making our golfers captive viewers for your brand.
Long-lasting Exposure: Unlike traditional advertising methods that are fleeting, your advertisement on our Tee Dividers will provide continuous exposure throughout the day. As golfers rotate between dividers, your brand will be repeatedly seen and remembered, reinforcing your message and creating a lasting impact.
Exclusivity: With only four available "spots of seven" on our 28 Tee Dividers, this advertising opportunity offers exclusivity and limited competition. By securing your place on our dividers, you gain a competitive edge by standing out from other brands and ensuring that golfers associate your company with our premier driving range experience.
Don't miss out on this incredible opportunity to boost your brand visibility and engage with a captive audience of avid golfers. Contact us today to reserve your space on our driving range Tee Dividers and take your advertising to new heights!
Seven Tee Dividers one year $398
Fourteen Tee Dividers one year $698
Twenty-one Tee Dividers, one Year $948
All 28 Tee Dividers, one year $1100!
Email: EppersonPeter@gmail.com
Secure your spot today.